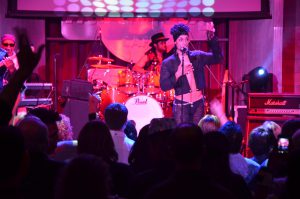 TEMECULA, Calif. – (Aug. 14, 2018) – Call it the rise of the fall specials at Pechanga Resort Casino, which celebrates the beginning of autumn with bingo, big poker payouts, boxing and Boz Scaggs at the West Coast's largest and friendliest casino.
September brings two big events to Pechanga. You know Pechanga Poker as featuring one of the lowest drops in Southern California. Now, you know Pechanga as the site of the Endless Summer Poker Series. From Sep. 18-23, the Pechanga Grand Ballroom will play host to six days of tournaments highlighted by a two-day, $400 buy-in No-Limit Tournament with a $200,000 prize guarantee. All told, the Endless Summer Series offers $300,000 in guaranteed prizes.
The second happens in Pechanga Bingo's luxurious lounge room on Sunday, Sept. 30, with the Fall Festival of Cash, which offers bingo players the opportunity to win their share of more than $100,000 in cash and prizes at one of the most popular bingo events in Southern California. Tickets for the Fall Festival of Cash — $75 paper or $180 electronic/$150 presale with a 36-card upgrade — are now on sale at the Pechanga Box Office, at Pechanga.com/bingo or on Ticketmaster.
That ticket guarantees you not only one of the more than 700 comfortable seats in the most palatial bingo room in the region and the opportunity to win as much as $10,000 in one of Pechanga Bingo's numerous games. The doors open at 9 a.m., with $800 warmup games beginning at 3 p.m. and $1,000 Earlybird games beginning at 3:30 p.m.
But the action at Pechanga extends throughout the month. The calendar has barely flipped to September when the opportunities to cash in begin. On Monday, Sept. 3, Pechanga celebrates Labor Day by handing out $100 in EasyPlay every five minutes to Pechanga Club members playing their favorite slots or table games from 10 a.m. to 8 p.m.
The always-popular Slot Multiplier returns on Wednesdays in September, which not only gives Pechanga Club Card members choices of more than 4,500 of the hottest and most modern slots, but the opportunity to earn Club Dollars based on their level. Every Wednesday in September from 4 p.m. to 8 p.m., Silver members earn four times Club Dollars, Gold members five times, Platinum eight times and Red 10 times just by playing their favorite slots or video poker games.
Thursdays welcomes the rise of the Harvest Moon, where on Sept. 6, 13 and 20, Club card members can win up to $1,000 in EasyPlay merely by swiping their Club card in the Promotional Area from 1 p.m. to 9 p.m.
And on Sunday, Sept. 23, Pechanga's Harvest Moon will shine over one lucky Club member, who will drive away in a 2018 Mercedes Benz. From 1 p.m. to 9 p.m. Club card members playing their favorite slots or table games will be entered into hourly drawings beginning at 5 p.m., with the number of entries based on Club level. Silver members earn single entries, Gold members three times, Platinum five times and Red eight times their entries. Along with the car, 50 Club members will win EasyPlay.
With the opportunity to win in a variety of fashions comes the opportunity to be entertained in a variety of fashions. And September's entertainment lineup once again features plenty of variety for every taste, starting on Sunday, Sept. 2 at the Pechanga Theater with Purple Reign, the ultimate tribute to the iconic Prince. The popular Broadway adaptation of Disney's Beauty and the Beast arrives at the Pechanga Theater with three shows: Friday, Sept. 21 at 8 p.m. and Saturday, Sept. 23 at 2 p.m. and 8 p.m. One week later, on Friday, Sept. 28, Boz Scaggs brings his timeless repertoire to the Pechanga Theater on his Out of the Blues Tour.
That same night, Showtime brings its popular ShoBox event to the Pechanga Summit for a nationally televised fight card. Tickets for all of these events are available at the Pechanga Box Office or by visiting www.pechanga.com.
When you can't make it to Pechanga, there's Pechanga's Best Bet casino app, which is free to download from the App Store or Google Play. On the Best Bet app, you can enjoy your favorite slots, bingo, video poker and blackjack wherever you are. It's as mobile as you are.
The best way to partake in many of these promotions and earn valuable perks along the way at Pechanga Resort Casino is to become a Pechanga Club member for free. Stop by the Pechanga Club desk on the main casino level and you will be on your way to earning. Visit www.Pechanga.com or call (877) 711-2946 for more information.