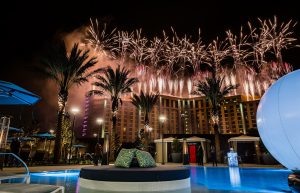 TEMECULA, Calif. – (May 8, 2018) – We are nearing the mid-term election as the calendar moves toward fall, but there is an important vote that needs to get out in Southern California before June 3. All southern California residents who live in Riverside and San Bernardino counties, as well as Orange County, are being asked to rate their favorite restaurants, spas, auto mechanics, florists, and more, including naming what is their favorite regional casino, for the Press Enterprise and Orange County Register newspapers.
Already with a "Best Casino in the U.S." win under its belt from readers of USA Today, and now with a just-opened $300 million resort expansion, Pechanga Resort Casino hopes to take that spot in the annual readers' polls.
The added expansion areas give guests so many more reasons to vote for Pechanga as the best So Cal Casino – including the new 4.5-acre pool complex, an additional 568 hotel rooms and suites, a luxury standalone spa, two new restaurants and another 68,000 square feet of meeting and event space. This summer, Pechanga hosts major artists Pitbull, Juanes, Steve Martin & Martin Short in the new Pechanga Summit event center.
To vote in the Orange County Register poll, click below.
———-
ORANGE COUNTY REGISTER
https://www.ocregister.com/voteocbest
To vote in the Press Enterprise poll, click below.
——–
PRESS ENTERPRISE
https://www.pe.com/VoteIEBest
Voters will be automatically entered to win $100.