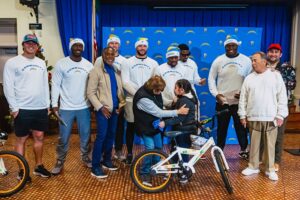 LOS ANGELES – (Dec. 16, 2022) – One hundred fifty kids received a new mode of transportation thanks to the Los Angeles Chargers Impact Fund and Pechanga surprising Mayo Elementary students with new bikes.
On Tuesday, second and third grade students were called to the school's cafeteria for what they thought was an essay awards ceremony. However, waiting for them were Charger players Khalil Mack, DeAndre Carter, Cameron Dicker and Morgan Fox who along with the Bikes for Kids Foundation helped surprise them with shiny new bicycles, helmets and locks.
"We're so honored to partner with the Los Angeles Chargers again this year to give bikes to these deserving kids. A bike is one of the best gifts a child can get," said Andrew Masiel, Sr., President of the Pechanga Development Corporation. "Kids need the chance to be kids, to get out and explore and enjoy the outdoors. We're always committed to giving back and happy to do it alongside the LA Chargers."
The bikes were purchased through the Chargers Impact Fund with funds gifted by Pechanga. This is the 18th consecutive year the Chargers have partnered with the Bikes for Kids Foundation to give away bicycles to elementary school students.
"It's awesome. It's great to have partners like Pechanga help us make an impact in a kid's life," said Cameron Dicker, Chargers' kicker. "It's really fun to see the kids light up around the holidays. One of the teachers was about to cry when one of the kids told her, 'I think I'm going to give this to my little brother for Christmas.' It's one of those moments that melts your heart."
"My favorite part of our job is the influence and impact we can make on these little kids' lives and being able to give back. That's my favorite part," said DeAndre Carter, Chargers' wide receiver. "It was an incredible day giving all these kids a bike. Hats off to Pechanga and the Chargers for putting this together."
"They've probably heard their parents or seen commercials about Pechanga as an organization, but to think they would come here and take time to be part of a celebration for them, it'll have a huge impact on them. And the Chargers, those people they see on TV are now part of a celebration they'll remember forever. Every time they get on that bike, they're going to remember Pechanga and the Chargers," said Fleming Robinson, principal of Augusta A. Mayo Elementary School.
Robinson added that the kids will carry a sense of pride each time they fasten their Chargers bike helmets.
Bikes for Kids happened shortly after Pechanga donated toys, experiences, gifts and funding for children and families in need through Southern California charities – ABC7's Spark of Love, the Marines' Toys for Tots, Holiday of Hope (a hosted event at Pechanga for underserved kids and families). The funds and gifts totaled more than $100,000.
For more information about how Pechanga gives back to the community, visit Pechanga.com/Community-Giving.