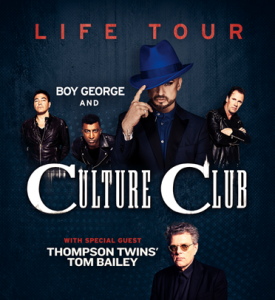 TEMECULA, Calif. – (July 12, 2018) – Grammy Award winning legends Boy George and Culture Club with special guest Thompson Twins' Tom Bailey will be showcasing in the Pechanga Summit on Saturday, October 6 at 8 p.m. as part of the 2018-2019 Life Tour. Now on sale, tickets start at $49 and can be purchased at the Pechanga Box Office, by calling (888) 810-8871 or online at Pechanga.com.
"We put together an amazing show that is going to be filled with hits and fabulous memories, we know it will be hands down this summer's best night out," said Boy George.
After more than two decades and 150 million singles and records sold globally, 2018 marks a new era for Boy George and Culture Club, as they are currently working on their first new music in 20 years. The tour setlist will celebrate some of their biggest hits plus gives fans an advance listen to new songs.
Since their inception in 1981 Culture Club have sold more than 50 million albums and 100 million singles totaling 150 million worldwide, led by their classic hits, "Do You Really Want to Hurt Me," and "Karma Chameleon," and "I'll Tumble 4 Ya." The group is fronted by British singer/songwriter Boy George, who is universally recognized as one of music's iconic artists of all time. George was recently presented with the Ivor Novello lifetime achievement award in 2015 for his contribution to the music industry. As the first multi-racial band with an openly gay front man, Culture Club has set many records, including being the first band since The Beatles to have three Top Ten hits in America from a debut album. The band reunited in 2014 embarked on two worldwide sold-out tours in 2015 and 2016. Looking ahead, 2018 marks a new era for Boy George and Culture Club, as they are set to commence on a 45-date tour and are currently working on new music. Roy Hay, Mikey Craig and Jon Moss make up the remaining original line up set to tour.
For nearly three decades fans of the Thompson Twins have been waiting for more live performances from one of the most iconic bands of the eighties. Now The Thompson Twins' Tom Bailey, with a new band, will be touring and performing the Thompson Twins hits. The Thompson Twins' Tom Bailey features Tom Bailey on vocals, keyboards, guitar, harmonica and percussion. His all-female band feature Charlotte Raven on vocals and keyboards, Amanda Kramer (The Psychedelic Furs/Information Society) on vocals and keyboards and Paulina Szczepaniak on electronic drums.
Much to TT fans delight, Bailey began writing contemporary songs again in 2016 and will be releasing a new album in 2018. The first track 'Come So Far' was released as a single in June 2016. Written from the perspective of a refugee in the current crisis the song is a moving portrayal of a refugee abandoning their home and moving in to the unknown. "I know where I've come from…don't know where I go". The single was released through Cooking Vinyl and all proceeds went to refugee charity Médicins Sans Frontières. A special numbered and signed 7" vinyl version of the single was also released through Pledge Music.
The music and videos of the Thompson Twins became a fixture on hit radio and music television throughout the world in the eighties. They were the soundtrack of our lives. Tom Bailey is at last performing those songs again that meant so much to so many.
The show will take place in the new 68,000 square feet Pechanga Summit recently added to Pechanga Resort Casino as a part of the property's $300 million resort expansion. The Pechanga Band of Luiseño Indians broke ground on the two-year project in December 2015. Entertainers, concerts, live sporting events, trade shows, weddings, or any large group now have a 40,000 square foot area featuring a multitude of seating options including stadium seating for ideal concert viewing.