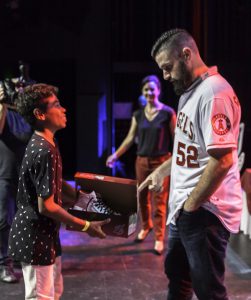 Temecula, Calif – July 21, 2017 – Fifty five foster kids in Riverside County received brand new shoes given to them by Angels Baseball star Matt Shoemaker. The athletic shoes, provided by Shoes that Fit with funds from Pechanga Resort & Casino, allow the deserving children to start the school year off more comfortable and less self-conscious. The children came to the Pechanga Resort & Casino Theater July 20 for the special shoe distribution and meet and greet with Matt Shoemaker. He handed each child a brand new pair of shoes in his or her exact size, and gave out lots of high fives. Rancho Damacitas foster group of Temecula representatives say foster children often come to them with the clothes on their backs and most have never received a new pair of shoes.
"We have 6 kids at home, four foster children and two of our own so these kinds of things Pechanga and these organizations help with, it's wonderful, it's a blessing," said foster parent Maria Franco.
"I'm going to be wearing these the first day of school. I'm excited," said 17-year old Vanessa Franco as she held up her new turquoise athletic shoes.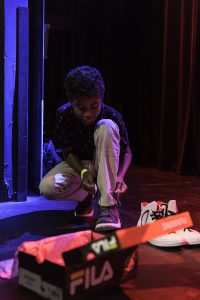 Studies show kids who start school with new and proper fitting shoes instead wearing worn out or ill-fitting ones are more confident and comfortable in themselves and their schoolwork. Many children in need receive new clothes for the start of each school year. However, children's services experts say new shoes are rarely provided to those kids. Pechanga and Angels Baseball sought to raise awareness of the need by having pitcher Matt Shoemaker distribute the new footwear.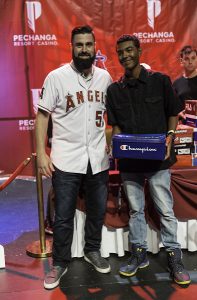 "Shoes That Fit and Shoemaker, it's meant to be, right?" Angels pitcher Matt Shoemaker commented.  "This is great stuff. Some of the kids have been in sad, unfortunate situations, but that's where you do what you can to make a kid smile."
"The main thing a brand new pair of shoes does is it automatically brings up their self-esteem. You see the smiles come up on their faces, they usually put the shoes on right away," said Nekeda Hall, Director of Corporate Engagement for Shoes That Fit.
Following the shoe giveaway, both the children and their foster parents were treated to dinner at the internationally inspired Pechanga Buffet.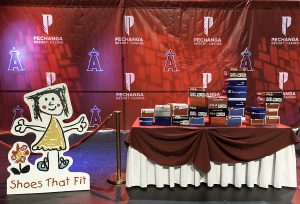 Shoes that Fit and the Rancho Damacitas foster care group are also beneficiaries of this year's Pechanga Charity Golf Tournament where $100,000 is raised for 4 regional charities each year. If you would like to help provide shoes to children in need within southern California, visit the Shoes that Fit website at ShoesThatFit.org.