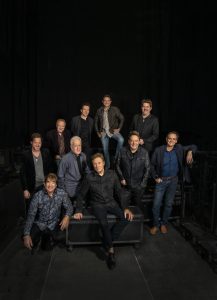 TEMECULA, Calif. – (Dec. 2, 2019) – From the signature sound of the Chicago horns, their iconic Vocalists, and a few dozen of ever-classic songs, Chicago brings the celebration to the stage. Entering their 53rd consecutive year of touring without missing a single concert date, Chicago will be performing live in the Pechanga Theater at Pechanga Resort Casino on Sunday, March 15, at 6 p.m. Currently on sale, tickets start at $89 and can be purchased at the Pechanga Box Office, by calling (888) 810-8871 or online at Pechanga.com/entertain.
Hailed as one of the most important bands in music since the dawn of the rock and roll era, Chicago came in at #10 in Billboard Magazine's Top 125 Artists of All Time, the highest charting American band, and is the first American rock band to chart Top 40 albums in six consecutive decades. Chicago was also inducted into the 2016 Rock and Roll Hall of Fame.
Chicago's first album, "Chicago Transit Authority", was inducted into the Grammy Hall of Fame in 2014.  Chicago managed to fuse pop, rock and jazz together perfectly in this double album.
Robert Lamm and James Pankow have become inductees of the Songwriters Hall of Fame in 2017. These legendary songwriters wrote mega-hits such as, "25 or 6 to 4," "Saturday In The Park," "Feelin' Stronger Every Day," "Make Me Smile," and many others.
Chicago, will celebrate the holidays this year with a new Christmas album, "Chicago Christmas", that spotlights the legendary group's trademark sound on eight original songs, two yuletide favorites and one timeless classic that embraces the spirit of hope.
On October 4, 2019, "Chicago Christmas" became available on CD and through digital and streaming services. In addition, a black vinyl version of the album was released to general retail, with limited-edition red and white vinyl versions exclusively available at Rhino.com. All vinyl versions were released on November 22.
Shortly after its release, "Chicago Christmas" went to #1 on Billboard's Holiday Chart.  After fifty-two years, Chicago is still earning historic chart achievements.
Produced by founding member Lee Loughnane, CHICAGO CHRISTMAS is the 37th album of the band's career and its fourth holiday collection. Whereas its previous releases focused more on traditional Christmas songs, the new record spotlights holiday music the band wrote especially for the album, including "All Over The World," "(Because) It's Christmastime," and "I'm Your Santa Claus." The album also features R&B and ballad versions of "Merry Christmas, I Love You," a song that Loughnane wrote with John Durrill of The Ventures, the best-selling instrumental band of all time.
Chicago's lifetime achievements include two Grammy Awards, two American Music Awards, Founding Artists of the John F. Kennedy Center for the Performing Arts, a star on the Hollywood Walk of Fame, a Chicago street dedicated in their honor, and keys to and proclamations from an impressive list of U.S. cities. Record sales top the $100 million mark, and include 21 Top 10 singles, five consecutive Number One albums, 11 Number One singles and five Gold singles. An incredible 25 of their 37 albums have been certified platinum, and the band has a total of 47 gold and platinum awards.
The original three-band members are Robert Lamm on keyboards and vocals, Lee Loughnane on trumpet and vocals and James Pankow on trombone. The band line-up also includes Wally Reyes, Jr. on drums, Keith Howland on guitar and vocals, Lou Pardini on keyboards and vocals, Ray Herrmann on sax and flute, Neil Donell on vocals, Brett Simons on bass and Ramon "Ray" Yslas on percussion.
Chicago continues to be true ambassadors for their beloved hometown, carrying the city's name with pride and dignity around the world.