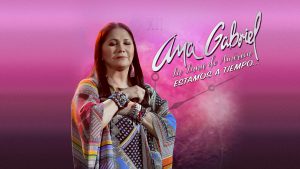 TEMECULA, Calif. – (November 7, 2019) – Sony Music recording artist Ana Gabriel has announced the first leg to her North American tour, which includes a stop in the Pechanga Summit at Pechanga Resort Casino on Friday, March 13, at 8 p.m. Currently on sale, tickets start at $50.50 and can be purchased at the Pechanga Box Office, by calling (888) 810-8871 or online at Pechanga.com/entertain.
Ana Gabriel, affectionately known to her fans as La Luna de América, is a legendary Mexican singer whom throughout her career has become one of the most important global ambassadors of Mexican music. On her 45 years in the industry, Gabriel has greatly influenced music, not only in Mexico but in Latin America and around the world.
Possessing one of Mexico's most recognizable and expressive voices, this icon continues energetically bringing her music to audiences across Latin America.
In 1974, she debuted her first professional performance. Since then, she has conquered the world's most prestigious stages, with her timeless songs recorded in such styles as bolero, ballad, mariachi and Banda de Sinaloa. She has also collaborated with such greats as Vicente Fernández, Vikki Carr, Plácido Domingo, Jose Luis Perales and Juan Gabriel.
"La Luna de América" will perform in 17 cities between the months of February and May in 2020. Her Spring concerts will include songs from each decade of her hit-making career as well as her new single "Y Tu No Estás" from her upcoming banda album, which will be released in 2020. Ana Gabriel's invigorating performance and charisma has connected with millions of fans around the world. Ana Gabriel is currently touring in Mexico and is set to perform at Chile's Most-Renowned Music Festival de Viña del Mar 2020.