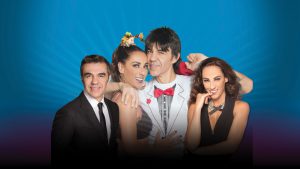 TEMECULA, Calif. – (March 25, 2019) – Adrián Uribe will be live along with Consuelo Duval for EnParejaDos in the Pechanga Theater on Friday, June 14 at 8 p.m. Now on sale, tickets start at $49 and can be purchased at the Pechanga Box Office, by calling (888) 810-8871 or online at Pechanga.com.
EnParejaDos is a show in which Consuelo Duval and Adrián Uribe return to unite their talents to explore all the problems, conflicts and misunderstandings that arise in a couple's relationships; finding humor in the clichés and absurdities that arise between men and women. EnParejaDos is a journey through time through the different stages of the relationship and through different eras, from Adam and Eve to El Vítor and La Nacaranda, the most endearing characters of these great comedians. EnParejaDos is a great show where people will not stop laughing.
Adrián Uribe is an actor, TV host and comedian best known for his roles as El Vítor, Carmelo and Johnny from My Heart Is Yours. Landing roles in television and cinema, Adrián Uribe has been nominated for numerous awards. Winning Best Male Comedy Star in 2007, he confidently switches between roles while on stage, offering the audience an extra special performance.