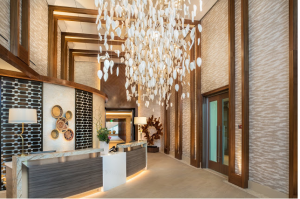 TEMECULA, Calif. — (December 26, 2022) – Just in time for guests to treat themselves to New Year relaxation and rejuvenation, Spa Pechanga reopens to all guests for their beauty and well-being needs. The two-level, luxury spa at Pechanga Resort Casino previously allowed hotel guests, Pechanga RV Resort, Temecula Creek Inn and Pechanga Club Red tier and above guests to book treatments. Now, members of the public ages 21 and older may book treatments at the acclaimed spa. Spa Pechanga also introduces new massage, facial and nail treatments. These services utilize Native botanicals known to Pechanga ancestors for their healing properties. Guests may also purchase Pechanga gift cards for friends and loved ones to use toward spa services. Pechanga gift cards make great (and easy) gifts and stocking stuffers. For Spa Pechanga reservations, call (951) 770-8501 or (877) 711-2946.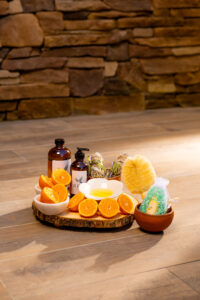 Spa Pechanga opened in late 2018 as part of the resort's $300 million expansion. One of only a few Native American spas in California truly incorporating native botanicals into services, treatments receive their inspiration from the Pechanga Great Oak Tree, revered by the Pechanga Tribe for its strength and life affirming presence. Many of the spa services incorporate the use of botanicals native to the Temecula region including include sage, prickly pear and more. Other elements not indigenous to the area such as lavender, rosemary and mint, the Pechanga people adopted and learned how to apply as medicines and flavor enhancements in teas and foods. Spa Pechanga's new massage treatments include the Great Oak Massage as a 50 or 80 minute service, the Luxury Lavender Massage and the Journey of the Payómkawichum – a soothing and meditative sound relaxation experience, taking the guest on an aural journey. The soundtrack was recorded by Pechanga's Creative Studios team and incorporates sounds Tribal people would have encountered on a trek from the Southern California ocean to the area now the Pechanga reservation. Spa guests can relax to crashing ocean waves, babbling creeks, a crackling campfire, wind through trees and more.
New facial treatments include the Acai Facial and the Apple Stem Cell facial.
"Our world moves so incredibly fast. Guests actively seek out a way to slow down and relax, and that includes allowing their spirits and their minds to relax as well," said Myra Masiel, Pechanga cultural curator and archeologist.
"Spa Pechanga is a place of tranquility and well-being. We're happy to be able to offer that to all visitors and residents of the Temecula Valley so they may truly know the healing powers and health benefits that come with reduced stress and tension," said Rachel Patane, Spa Pechanga Manager.
For guests wishing to experience the spa, though not wanting a massage, facial or nail treatment, a spa day pass proves a good option. For $75 for non-hotel and $60 for hotel guests, visitors may take advantage of all the spa amenities for the day. This gives them access to the state of the art workout facility, men's or women's lounge, steam room, sauna, hydrotherapy pool, spa pool, relaxation room, outdoor relaxation deck, complimentary healthful snacks, teas and infused waters.
Each month, Spa Pechanga features a selection of new spa menu specials. Upcoming specials include:
January:
• Lunar New Year Clementine Dream Scrub + Mini Massage – Sweet cream salt scrub polishes dry skin followed by a relaxing massage
• Winter Warm Up Massage – Warming agave nectar oil, hot stones & hot towel wraps melt away stress and tension in this indulgent massage
• Wellness Facial – With a biocellulose mask from GM Collin, this full-service facial works against under eye circles and renews skin for a fresh glow
• Winter Warm Up Pedicure – Feet need love in the winter, too. Exfoliate and revive tired feet and toes
February:
• Himalayan Salt Stone Massage – A soothing massage featuring blend of Body Bliss essential oils
• Valentine's Couples Massage – Featuring Body Bliss essential oils, enjoy a massage next to your loved one while also receiving a hand and foot renewal + scalp massage. Enjoy chocolate covered strawberries & champagne, wine or sparkling cider to complete the treatment (Spa Pechanga features several wines by the glass by Temecula winemakers.)
• Lucky Glow Facial – Customized facial enhanced with a Knesko Lucky Mask and peel
• Berry Chocolate Bliss Mani & Pedi – Sweet strawberry & chocolate lotion and essential oils applied to hands and feet to bring out the softest skin and rid you of dry dullness
March:
• Brush Away Massage – Skin is dry brushed to rid dead, dry skin, followed by a stress-relieving massage
• Spring Renewal Facial – Customized facials with thermo-cooling Algo mask + derm-renewal peel and lip exfoliation
• Citrus Cooler Manicure – A cooling mani with a citrus grass salt scrub, agave nectar oil & shea butter massaged into feet & legs
• Spring Renewal Facial + Spring Cooler Manicure (Monday-Thursday)