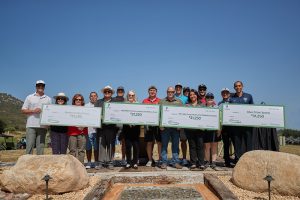 Pechanga Indian Reservation, CA, May 10, 2022– Hundreds of golfers took to the greens at Journey at Pechanga May 4 and 5 for the 23rd Pechanga Charity Golf Classic. After the rounds wrapped and scores were counted, Pechanga proudly announced they raised $125,000.00 for four Southern California charities.
The theme of this year's tournament – helping those who helped everyone else during the pandemic. The four charities split the $125,000 evenly and funds will help support the mental health of frontline workers, families of law enforcement workers facing life-changing crises, working toward increasing the number of blood donations in our region, and unifying tribal youth and communities through athletics and culture while promoting leadership and wellness.
More than 300 golfers took part in the 23rd annual Pechanga Charity Golf Classic. The golfers were treated to lunch on the course, fun activities from vendors at many of the 18 holes and an awards banquet at the award-winning Journey's End restaurant to wrap up the event. They even got to take photos with Rampage, the Los Angeles Rams' mascot, and the championship trophy on hand at the event.
The charities receiving funds raised by Pechanga's Charity Golf Classic included Healthwell Foundation's COVID-19 Frontline Health Care Workers Behavioral Health Fund, the Riverside County Deputy Sheriff Relief Foundation, the American Red Cross and Inter-Tribal Sports.
Now celebrating its 23rd year of bringing together tribal government and Indian gaming industry leaders who love spending a day on the course while helping those in need, the event has raised more than $1.6 million for a variety of essential charitable organizations throughout the Temecula Valley. The two-day event has grown into one of the most popular charity golf tournaments in the region and has become a must-play event for more than 300 golfers from throughout California.
"We are so grateful at Pechanga for the immeasurable help and assistance of our regional hospital and law enforcement personnel," said Andrew Masiel, President of the Pechanga Development Corporation. "The pandemic put us all through so much, but perhaps no one took on more than they did. We are honored and humbled to contribute to our community in this way. Our team works hard to identify regional charities in need of services. We landed on non-profits that will use the funds in truly impactful ways for the lives of those who gave so much of themselves for others to get us all through the pandemic."
"I knew how much it would help us with our fallen deputies' families, as well as our injured deputies and the deputies who need our help and I was ecstatic and overcome with joy about it when Pechanga called me and asked if we would like to be a beneficiary of their charity golf tournament," said Bill Young, Treasurer of the Riverside County Deputy Sheriff Relief Foundation.
"Pechanga has been such a great partner to the Red Cross for many years, whether it's been supporting our blood drives, or supporting us during times of disasters," said Lois Beckman, Executive Director of the Riverside County Chapter of the American Red Cross. "We simply could not do the work we do without the support of organizations like Pechanga so we are so, so grateful for them."