TEMECULA, Calif. – (Dec. 7, 2017) – The holidays came a few weeks early for 300 of the most disadvantaged children and families in the Inland Empire. Thursday, Dec. 7 from 4 p.m. to 8 p.m., hundreds of children from Lake Elsinore, Murrieta, Temecula and the surrounding communities were welcomed by special invitation to enjoy a 22,000-square foot Polar Express themed winter wonderland inside the Pechanga Grand Ballroom. During Pechanga's second annual "Holiday of Hope" event, they "stopped" at nine different "stations" each conducted by Pechanga "engineers" (volunteers). These special guests met and took photos with Santa, watched holiday movies by a fire, enjoyed a traditional holiday meal, rode a train, listened to Christmas singers, and more. Each child and his or her family were identified by the Temecula, Lake Elsinore and Murrieta School Districts as in-need individuals. According to a January 2017 report, there are 2,413 homeless children and adults in Riverside County, up from 2016's count of 2,165.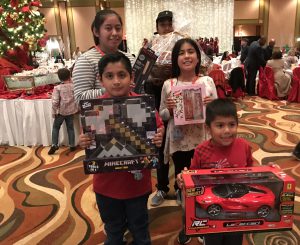 Each of the 300 children attending the Holiday of Hope event got to choose an age-appropriate gift. Their families will each be given a gift basket containing a fleece blanket, hot cocoa, popcorn, family game and a grocery gift card.
"We are just trying to make the holidays a little bit brighter for these deserving families," said Edith Atwood, President of the Pechanga Development Corporation. "This is about providing these very special families with an exclusive Christmas wonderland to experience all of the sights, sounds and smells to bring some added joy during this holiday season."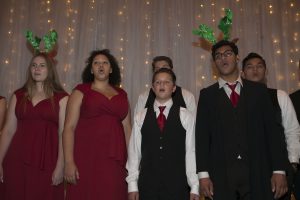 The kids and families also enjoyed musical performances by the Chaparral, Great Oak and Vista Murrieta High School choirs. All groups generously agreed to donate their time to this event.