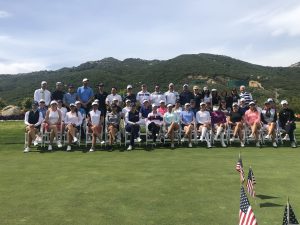 TEMECULA, Calif. – (April 9, 2019) – Pechanga Resort Casino hosted the 13th Annual Kore Pro-Am Golf Tournament at Journey at Pechanga on April 7 and 8, 2019. The event marked the 7th year for Pechanga to host the tournament as the proud official sponsor. Journey at Pechanga is Pechanga Resort Casino's premiere championship golf course, already well known among many Asian golfers. This year, more than 30 talented LPGA golfers were invited to participate in this highly anticipated tournament with the Pro-Am's tee sponsors.
The Kore Pro-Am continued to serve as a community event by inviting more than 30 volunteers from Temecula's Great Oak High School (GOHS) Girls Golf team for the third year in a row. The event provides the student athletes a prime opportunity to meet and greet with pro players and experience the tournament. The Girls Golf team acted as volunteer scorers and each high schooler rides with a selected LPGA player for the whole day. In return, the Kore Pro-Am donated $3,000 to the GOHS team for their support. The top-rated girl's high school team recently won their California Interscholastic Federation (CIF) division.
"Just from this day, it's a great relationship these players make with the people they look up to, their idols," said Rachel Reif, Head Varsity women's golf coach for Great High School. "Having LPGA golfers out here, it really is their mentors, and watching them play hand in hand, having those conversations in the cart, and just having fun with them, is such a great opportunity. I love that we've been put in this situation."
"We hang out with the LPGA players which is kind of crazy," said 16 year old Kaila Higgins, the Great Oak High School Girls' Golf team captain. "We score keep for them and their group. It's a crazy opportunity. Last year I got invited to go to the Wilshire CC with one of the LPGA players. She has a boyfriend and he caddies for Ryan O'Toole. I got to walk with her (Ryan) for their practice round. And I've really learned so much from this whole opportunity. Learning how hard the pros work to get to that level. I want to work as hard as them and get to that level, too."
Kore 2019 Pro-Am featured many outstanding LPGA professional golfers including Angel Yin, Annie Park, Mi Hyang Lee, Megan Khang, Yu Liu and Muni He. Angel Yin, Rolex Ranking #38, started playing golf at age 6 and claimed her maiden professional title at the Ladies European Tour's season-ending Omega Dubai Ladies Classic in 2017. Annie Park, Rolex Ranking #54, started playing golf at age 8. In 2018, she had Tour victory at the ShopRite LPGA Classic presented by Acer. Mi Hyang Lee, Rolex Ranking #55, is from South Korea and started playing golf at age 3. Lee had three top-10 finishes in 2018, with a season, best finish of T7 at the Indy Women in Tech Championship driven by Group 1001. Megan Khang, Rolex Ranking #59, started playing golf at age 5 and recorded a career-best T3 at the Blue Bay LPGA. Yu Liu, Rolex Ranking #72, started playing golf at age 9. She was the third player from China to ever win on the Symetra Tour and led the tour in birdies with 239. Muni He, Rolex Ranking #382, is a rising star. She was one of the four amateurs who played in the 2015 U.S. Women's Open and made her professional debut at the Dubai Ladies Masters in 2017. Muni He recorded two top-10 results including a win at the Prasco Charity Championship in 2018.
The following popular LPGA superstars also joined the game: Chella Choi, Akako Uehara, Emma Talley, Sarah Jane Smith, Hee Young Park, Tiffany Joh, Kim Kaufman, Robynn Ree, Brianna Do, Cheyenne Woods (Tiger Woods' niece), Kelly Shon, Lauren Kim, Alison Lee, Erynne Lee, Vicky Hurst, Sydnee Michaels, Lilia Vu, Harang Lee, Kelly Tan, Rebecca Lee-Bentham, Lisa Cornwell, Juillian Hollis, Hanule Sky Seo, Gabriella Then, Andrea Wong. This elite group of more than 30 pro golfers challenged each other on the stimulating and demanding course, along with their fans and golf partners.