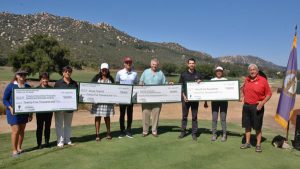 Pechanga Indian Reservation, Calif. – (Aug. 21, 2017) – Pechanga hosted a two-day golf tournament that raised more than $100,000 for Trauma Intervention Programs of SW Riverside Co., Rancho Damacitas Children & Family Services, Shoes That Fit and the Gary Sinise Foundation. The Pechanga Charity Golf Classic was held at Journey at Pechanga golf course Aug. 16 and 17 and included 356 golfers. The proceeds from the tournament fund vital programs serving the community at four non-profit organizations.
Now in its 19th year, the Pechanga Charity Golf Classic has brought together Tribal government and Indian Gaming industry leaders to raise more than $1 million for important nonprofits throughout the region. The two-day event has grown to include more than 350 golfers each year.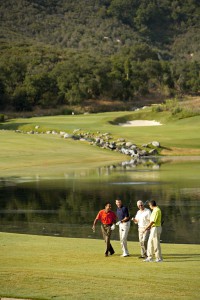 "Pechanga's commitment to the ideal of helping people become self-sufficient is why we are passionate about this event," said Edith Atwood, President of the Pechanga Development Corporation. "With the amazing generosity our sponsors over the past 18 years, Pechanga has raised more than $1 million for organizations that provide invaluable services to our local community and region."
Trauma Intervention Programs, Southwest Riverside County
Our citizen volunteers will provide emotional first aid to survivors of tragedy in order to ease their immediate suffering and facilitate their healing and long term recovery. Trained volunteers are called by first responders to scenes of traumatic events, such as hospitals, private homes, and on-scene.
"TIP of Southwest Riverside County is honored and extremely grateful to be the recipient of Pechanga's generous donation," said Magda Stewart, CEO-TIP SWRC. "The funds will enable us to increase the awareness of TIP in Southwest Riverside County, conduct more frequent trainings of new volunteer, and roll out programs such as NODA (No One Dies Alone)."
Rancho Damacitas Children & Family Services
The mission of Rancho Damacitas is to end the cycle of child abuse by providing comprehensive care and compassion for abused and neglected children and young adults through life-enriching opportunities and strength-based, solution-focused programs and services. Funding will go toward the building of their "Honor Home," which will serve five young adults participating in the Project Independence program. Project Independence and the "Honor Home" is the organization's solution to keeping young adults off the streets, out of jail, and becoming self-sufficient, contributing members of the community.
"Rancho Damacitas provides programs that target the unique needs of current and former foster youth empowering and developing these young people to become self-sufficient and thriving members of our communities," said Cal Winslow, CEO. "Funding through the Pechanga Golf Tournament will build a Great Room within our new transitional living home complete with a library and computers helping youth find work, study and achieve their long-term goals."
Shoes That Fit
The mission of Shoes That Fit is to provide new shoes to children in need so they can attend school in comfort and with dignity, better prepared to learn and play. We believe that every child deserves shoes that fit. Our grassroots programs are working to provide children in need with new shoes that enable them to attend school in comfort and with dignity and allow them to focus on their studies rather than their circumstances. We create a simple, hands-on program that encourages volunteerism in every community.
"Funds received from the Pechanga 19th Annual Golf Tournament will be used by Shoes That Fit to support our programs providing shoes nationwide and Southern California, with a special focus on the Inland Empire," said Nekeda Newell-Hall, Director of Corporate Engagement. "Shoes That Fit works directly with local schools, school districts and county offices, identifying the children most in need through their teachers, and then measures each child individually to ensure the perfect fit."
Gary Sinise Foundation
At the Gary Sinise Foundation, we serve our nation by honoring our defenders, veterans, first responders, their families, and those in need. We do this by creating and supporting unique programs designed to entertain, educate, inspire, strengthen, and build communities. Funds will go toward the building of adaptive smart homes for two wounded warriors, each which average $600,000.
"The Gary Sinise Foundation serves and honors our active duty, veterans, first responders, their families, and those in need 365 days a year," said Hannah Hauserman, Manager, Programs & Events. "They have established various outreach programs that seek to address our defenders' complex and ever-changing needs before, during, and after the battle. All funds raised directly support American heroes and the loved ones that sacrifice alongside them."