TEMECULA, Calif. – (Dec. 1, 2014) – A Rancho Cucamonga, Calif. woman now has 1,039,984 more reasons to be thankful after an impromptu trip to Pechanga Resort & Casino. Marian Williams made a decision very early on Thanksgiving morning to drive over to Pechanga Resort & Casino and play slots before the cooking and cleaning of the rest of the day.
Ten minutes and $28.00 later, Marian thought something had gone wrong with her $1.00 Gold Double Series slot machine. Bells sounded and other guests looked on as Marian found out she hit the progressive for $1,039,984.64. "I could not believe it!" she said. "I really feel so blessed and for this to happen on Thanksgiving! It's awesome." Marian hit the jackpot at 3:55a.m. When asked what she might do with the turkey day cash windfall, she said, "I'll probably share it."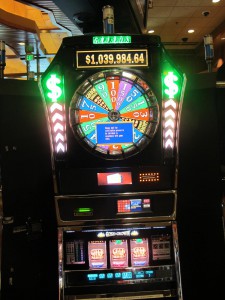 The Thanksgiving slot machine jackpot is the fourth over one million dollars at Pechanga Resort & Casino in four years. Three of these four jackpots were hit on the same bank of slot machines – the Gold Series by Rocket Gaming.
Winners are made at Pechanga Resort & Casino every day. See the latest jackpots at www.AlwaysMoreWinners.com. You could be next.