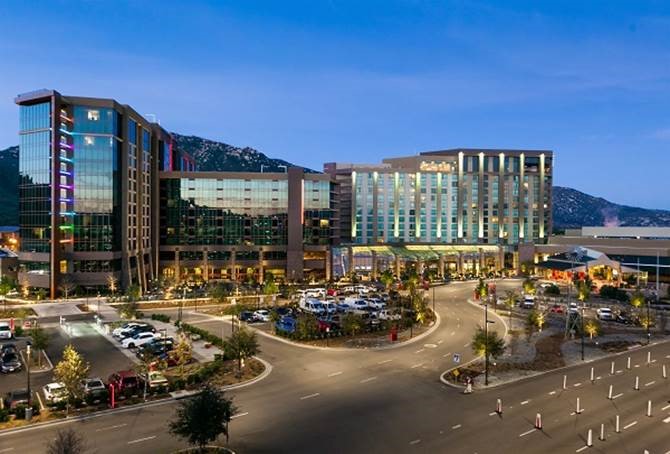 — Pechanga Resort & Casino to Show Off Completed
$300 Million Expansion with Major, Star-Studded Party & Concert —
TEMECULA, Calif. – (Jan. 22, 2018) – The Pechanga Band of Luiseño Indians announced today it will be holding a major Grand Opening ceremony and concert to celebrate completion of its $300 million resort expansion. The Grand Opening, scheduled for Saturday, March 3, will include a ribbon cutting with dignitaries and Tribal elected officials, a VIP poolside party with celebrities in attendance at the new 4.5-acre pool complex and a rock concert featuring artist Steven Tyler and his Nashville-based band Loving Mary inside the all-new Pechanga Summit event center. Tickets to the Steven Tyler concert will be available to the public and go on sale Friday, January 26 at 3 p.m. Tickets are $89, $99, $139, $159 and $179 and may be purchased by calling (877) 711-2946 or by visiting Pechanga.com.
The 4.5-acre pool complex, nearly the size of four football fields, will open to guests in mid-March. The pool area consists of four pools and three whirlpool spas (one with a natural rock waterfall feature). The center pool encompasses 7,600 square feet and features a swim up bar with underwater seating and a Baja ledge for chaises and daybeds that skim the water. Another large pool (2,400 square feet) features a family-friendly setting with two twisty waterslides that splash guests into a beach-entry pool. Next to the pool, kids can run through sprinkling water features at the splash pad. A third pool is a 1,200 square foot VIP pool. Two smaller pools (520 and 650 square feet) offer more spots for guests to soak. Thirty-two cabanas will be available through the entire pool and spa complex.
Encompassed within the pool complex area, named The Cove, is a large grassy field available to be used as an outdoor concert venue, space for outdoor parties, and more. Along with The Cove, Pechanga also will open an indoor/outdoor restaurant and bar serving poolside dining. This will be Pechanga's 13th property restaurant and its 20th restaurant or bar venue.
During the December 2015 groundbreaking event that set Pechanga's expansion in motion, Patrick Murphy of the Pechanga Development Corporation told the crowd gathered, "We are completely committed to making Pechanga Resort & Casino a world-class resort destination."
With the entire project nearing completion, members of the Tribal Council and the Board of Directors took time for reflection.
"This $300 million project is a long-term investment to help cement Pechanga and Southern California Wine Country as a complete and refined destination experience," said Tribal Chairman, Mark Macarro.  "It is the beginning of the next chapter of Pechanga Resort & Casino and an important milestone in our history. This expansion prepares our Tribe for the next quarter century and positions our tribal government and community for success in the 21st century and beyond."
"We are deeply grateful for the support of our Team Members, community partners, and the more than 3,000 construction workers that helped bring this project to fruition," said Edith Atwood, President of the Pechanga Development Corporation's Board of Directors. "This expansion gives us nearly 1,100 rooms – the most of any other casino in California – and provides our guests with unparalleled luxury amenities. We are truly taking the guest experience to another level."
Economists from Beacon Economics estimate Pechanga's expansion resulted in an output to the region of more than $550 million. They state the area's local economy has benefitted from the creation of an additional 560 jobs per year as a result of the Temecula resort/casino's expanded operations.
Pechanga Resort & Casino's expansion includes a new, AAA Four Diamond, 568-room and suite hotel wing; a stand-alone luxury two-story spa and salon with 17 treatment rooms, a fitness center and hydrotherapy pool terrace; a 4.5-acre resort-style pool complex; two new restaurants; and an additional 67,000 square feet of event space. Tutor-Perini was brought on as the project's builder. Lifescapes International, the landscape architectural firm responsible for iconic resort and casino landscapes such as the Bellagio and Wynn Las Vegas, was responsible for the pool complex, outdoor event lawn, and green roof atop the fourth floor roof. CLEO Design was tasked with all interior designs of the new spaces.
Snapshot of Pechanga Resort & Casino After Grand Opening:
Casino square footage: 200,000
Event/meeting/convention square footage: 100,000 (indoor) 174,500 (outdoor)
Number of hotel rooms: 1,090
Number of restaurants & bars: 20
Number of pools & spas: 15
Number of employees: 4,750
Pechanga Expansion Has an Economic Output of over $550 million
Nearly 3,000 jobs from construction-related activities
560 total new jobs within community going forward from expanded operations
Local Improvements Funded by Pechanga as Result of Expansion
$5 million to widen Pechanga Parkway and improve local roads. Over $9 million in funding for local law enforcement
$14 million contributed for Interstate 15/Temecula Parkway Ultimate Interchange