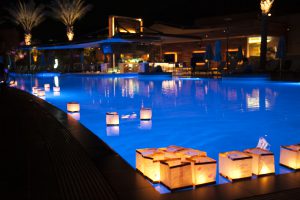 TEMECULA, Calif. (September 25, 2019) – Wondering what you can do this October for Breast Cancer Awareness Month to honor a loved one or someone battling the disease? The Cove at Pechanga Resort Casino hosts a Twilight Candle Send-Off on Thursday, October 24. Doors open at 5 p.m. The lantern release will be at sunset and the event will conclude at 7 p.m. Guests will decorate a lantern for their loved one who was or still is affected by the disease in any form. All together, the lit lanterns will be released into the pool in remembrance and thought of the family member or friend.
The event is $15 and includes all materials to create the special lanterns. A portion of the proceeds will be donated to Hair We Share, an organization that makes and distributes wigs free of charge to eligible patients with a medical hair loss condition.
Guests who donate hair at the Hairathon in the morning and choose to stay until the Twilight Candle Send-Off will receive a 50% off day pass to the Cove on October 24.
The Centers for Disease Control show breast cancer is the most common cancer among American women, affecting one in eight. The organization statistics show more than 200,000 women develop breast cancer and more than 40,000 women die from the disease each year.
The Twilight Candle Send-Off is a time for the community to gather, share stories of those they love and show their support. The pink themed event will offer pink wine donated by the locally-based Callaway Winery.
To attend the Twilight Candle Send-Off, just show up. For questions, visit www.pechanga.com or call the Cove concierge line at 951-770- 8450.