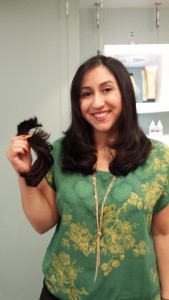 TEMECULA, Calif. — (Aug. 31, 2016) – This October, ladies and gents with long hair should mark their calendars for a FREE haircut and style, and for the chance to do good for someone with breast cancer. Spa Pechanga inside Pechanga Resort & Casino in Temecula, Calif. gives long hair endowed individuals willing to chop off eight inches or more a free haircut and style. The cut hair gets collected by Spa Pechanga and is then donated to the American Cancer Society in conjunction with the Pantene Beautiful Lengths program to make free, human hair wigs available to people undergoing cancer treatment. Hair donations and free haircuts and styles are available to anyone (all ages) based on appointment availability. Reservations at Spa Pechanga are on a first come, first served basis. The free haircut and style gives donors a $75 value. Guests may also drop off ponytails to Spa Pechanga. To make a reservation or for more information, contact Spa Pechanga at (877) 711-2946 or visit www.Pechanga.com/Spa.
The campaign coincides with October as Breast Cancer Awareness Month. The side effects of breast cancer treatment, especially hair loss, can be devastating to a woman's psyche. The haircutting crusade encourages men or women whose hair is eight or more inches, not colored or bleached and not more than five-percent gray to give their hair to help a woman who has lost hers due to cancer treatment. All collected ponytails from Spa Pechanga will be given to the HairUWear® organization. HairUWear turns all usable hair donations into real-hair wigs and distributes them for free to female cancer patients through the national network of American Cancer Society® wig banks.
"We are so excited to be able to do our part to help this very important cause," says Gina Layland, Spa Pechanga manager. "There are so many women across the country who can be helped by the kindness of a stranger donating their locks. We hope we can help at least a few ladies going through cancer treatment to feel as beautiful on the outside as they are on the inside."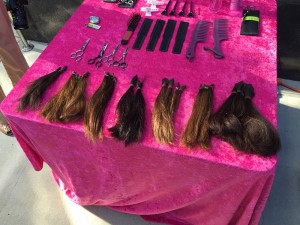 This is the fourth year Spa Pechanga has held the October hair donation campaign and to date, nearly 100 ponytails have been collected. It takes five to six ponytails to make one real-hair wig. For more than a decade, Pechanga Resort & Casino has been a major supporter of the Susan G. Komen Foundation in its region. Over the last four years, resort/casino employees have donated more than $130,000 to the fight against breast cancer and toward raising awareness.
The Centers for Disease Control show breast cancer is the most common cancer among American women affecting one in eight. American Cancer Society statistics show that one in three women will develop some form of cancer in her lifetime. The organization estimates that 292,130 new cases of breast cancer afflicted women in 2015. Hair loss, one of the most common side effects of cancer treatment, can be especially traumatic for a woman fighting cancer. Pechanga has long upheld a tradition of providing critical resources for those in need.
Spa Pechanga is open Sunday through Thursday from 8 a.m. to 8 p.m. and on Friday and Saturday from 8 a.m. to 9 p.m.