— San Diego County Woman Wins $54,148.00 at State-of-the-Art Bingo Facility —
TEMECULA, Calif. – (Oct. 28, 2013) – Registered nurse Merrilie Rousseau of San Marcos, Calif. has some fellow bingo enthusiast friends to thank for recommending she go to Pechanga Resort & Casino to play on a recent weekend.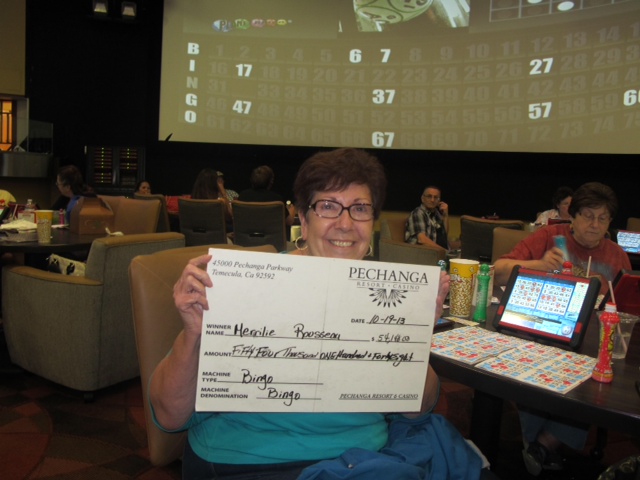 The medical professional decided to hang up her stethoscope on Saturday, October 19 and made the 25 minute drive to check out the new bingo facility and the resort/casino for the very first time. Seated for the evening bingo session, Merrilie had been playing the $80 electronic bingo package for about 30 minutes when she realized she hit a bingo. She called it out, but then, green lights began flashing. In addition to getting a bingo, the San Diego County nurse also triggered the Green MP Bingo® progressive jackpot which stood at $54, 418.00. Merrilie said she could not believe her good luck. "I had heard from my bingo friends that Pechanga was a fun and comfortable place to play bingo," said Merrilie. "I think they may be a little mad that I won this jackpot my very first time here. Seriously, they're happy for me, though."
"Bingo jackpots of this size are pretty rare in the industry," said Buddy Frank, Vice President of Slot Operations at Pechanga Resort & Casino. "Since opening on July 4th this year, Pechanga two Pechanga players have won very sizable progressive jackpots. People like Merrilie come here because they hear from friends about how fun and different our bingo venue is, and they end up having a great time, and in her case, going home with a lot of money."
Pechanga Bingo is unique in Southern California because players can win the progressive amounts without additional buy-ins or bets. Each person seated for a bingo game at Pechanga is automatically entered into the possibility of winning any one of five multi-progressive bingo jackpots – red, green, blue, yellow and purple. A player wins the progressive amount whenever he or she has won a bingo and in addition, five number boxes in a straight line appear as the same color. The color of the boxes determines the level of progressive jackpot he or she wins. MP Bingo® is tied into 13 casinos around the country.
Pechanga Bingo features an ultra-modern and comfortable environment for bingo players seven days a week. High stakes and low buy-ins provide excitement and the chance to win big. The 14,000-square foot bingo facility ushered in players with a Grand Opening the afternoon of July 4. With 700-seats, state-of-the-art giant flat-screen monitors and hand-held gaming consoles, as well as the time-honored paper bingo cards, free soda, water, coffee, and a fiber optic light chandelier centerpiece, Pechanga Bingo offers the most unique and inviting playing atmosphere nearly anywhere in the country.
In October 2013 alone, Pechanga Resort & Casino has paid out more than $28,100,000 in winnings. Up to the minute stats on how much players have won at Pechanga can be seen online at www.AlwaysMoreWinners.com.