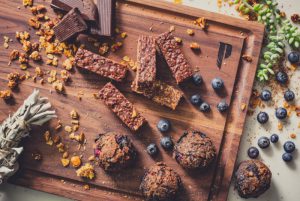 A lot of us busy folks look for healthy snacks we can take on the go. But when you look around at the grocery store, you find many yummy-sounding snacks loaded with chemicals and unpronounceable ingredients.
That's why when the staff at the Forbes Travel Guide Four Star rated Spa Pechanga wanted delicious, healthy snacks to serve to guests waiting for or finished with their relaxing treatments, they turned to the resort/casino's in-house bakery for help. Chef Jean-Jacques Granet has spent more than 30 years in the culinary and baking industry. These wholesome, healthy and gluten-free snacks are sure to keep you energized all day. They're also great for kids instead of constantly handing those little hands  individually wrapped packets of oats and sugar.
Try them for yourselves this weekend!
Healthy Organic Blueberry Muffins (gluten free)
These muffins incorporate chia and flax seeds which were used extensively by Native Americans and the Pechanga Tribe in Southern California for their healing and healthful properties. Chia was an important food for providing sustained energy. Flaxseeds offer essential omega-3 fatty acids and good amounts of fiber. These muffins are moist, tasty and help keep you full so you won't be reaching for empty calorie snacks. They're also perfect for kids' snacks.
Almond flour: 1 cup
Quinoa flour organic: 1 cup
Chopped walnuts: 1/3 cup
Chia seeds: 1/3 cup
Flax seeds: 2 tsp
Agave Syrup: ½ cup
Baking soda: 2 tsp
Salt: 1 tsp
Cinnamon: 1 Tbsp.
Ground cloves: 1.5 tsp
Egg replacer: 1/3 cup
Apple cider organic: 2 tsp
Maple syrup – organic: ½ cup
Vanilla extract: 1 Tbsp.
Coconut oil – organic: 1 Tbsp.
Blueberries – organic: 4 cups
Mix all dry ingredients together. Add all liquids and mix slowly then add the blueberries and gently keep mixing until all are well combined. Scoop into paper cups in a muffin pan and bake at 350 Fahrenheit for about 15 minutes or a few minutes longer depending on size.
Makes 25-30 mini muffins or 12-15 standard-size muffins.
Crunchy Granola Chocolate Bars (gluten free)
These bars are gluten and sugar free, though you would never know it! You could also just make the granola which provides natural carbohydrates.
Crunchy Granola:
Oatmeal: 3 cups
Corn flakes: 2 cups
Almond flour: 1 cup
Sesame seeds: ¼ cup
Pecan pieces: 1 cup
Almonds – sliced: 1 cup
Hazelnut pieces: ½ cup
Pistachio pieces:  ½ cup
Olive oil: 1 ¼ cup
Organic honey: 1 ¼ cup
In a large container (metal or plastic) mix by hands all ingredients together until well incorporated then sprinkle over parchment paper in a sheet pan. Bake for 20 to 25 minutes at 350 Fahrenheit
Chocolate granola bar:
Chocolate 65% (could be sugar free): 9 oz.
Marshmallow: 8 oz.
Butter: 3 oz.
Slowly melt your chocolate in microwave and keep aside. In a saucepan, melt your butter on medium heat, then add your marshmallows. When those are melted, turn off the heat.  Add the granola with a spatula, then the melted chocolate. Pour mixture into a flat sheet pan or baking mold, pressing down like you do for rice crispy treats. Allow to cool, then cut to the desired size.