Temecula, Calif. (Nov. 30, 2017) — If you like playing poker or bingo and enjoy doing something good for someone less fortunate, Pechanga Bingo and Pechanga Poker invite you to help Restock the Shelves throughout January 2018. Pechanga Poker and Bingo players will be rewarded with valuable incentives just for bringing in non-perishable foods in order to rebuild food bank supplies that are severely depleted following the busy holiday season. Food donations will be given directly to the Community Mission of Hope, Temecula's only food pantry and servicing more than 400 residents and families of Murrieta, Temecula, Anza and Aguanga each month. The Restock the Shelves program runs through Wednesday, January 31.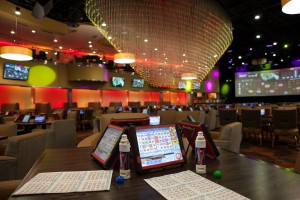 Bingo players who bring in two cans of non-perishable food receive one free early bird game pack with their buy in for matinee and evening sessions any day in January.
Pechanga Poker players coming in to play tournaments Monday through Friday can get a head start on tournament chips for bringing in non-perishables. Bring in two canned goods and receive 500 bonus starting tournament chips. Donate three or more canned items and receive 1,000 bonus starting tournament chips.
Also, poker enthusiasts who want to do good should mark their calendars for  Wednesday, Jan 24 at 7 p.m. Ten Dollars and five canned goods equals the buy-in for the night's $1,500 Guarantee Tournament.
Last January, Pechanga poker players generously gave more than 1,000 pounds of food. The "Restock the Shelves" food donation campaign is put on at Pechanga in conjunction with Ante Up Magazine and Blue Shark Optics.
Ante Up and Blue Shark Optics team up with poker rooms in regions across the countries to host Restock the Shelves events each January. This is the Pechanga Poker Room's third year participating and Pechanga Bingo's first.
"Our poker guests really got into the donations last year," said Richie Lopez, poker room manager. "They felt engaged and it brought them a lot of joy to know they were helping others. That's the best feeling for us at Pechanga and we hope we can keep the momentum going again this year."