Temecula, Calif — (June 24, 2015) – Spa Pechanga at Pechanga Resort & Casino introduces its newest massage treatment specifically for golfers who want to relax after a round, or who want to loosen up before tee times. The Golfers Massage incorporates deep tissue and Swedish massage, aromatherapy techniques, plus alternating cool and hot on tired muscles. The 50-minute treatment concentrates on areas golfers use most – the upper and lower back, shoulders and forearms. The Golfers Massage can be booked for $125 at Spa Pechanga, open from 8:00a.m. to 8:00p.m. Sunday through Thursday, and 8:00a.m. to 9:00p.m. Friday and Saturday. Call (877) 711-2WIN to make a reservation, or visit www.Pechanga.com/Spa for more information.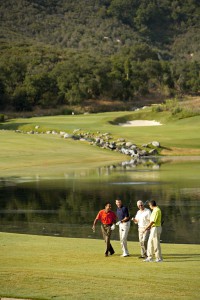 Designed over the course of three months by Spa Pechanga's treatment development team and accredited therapists, the Golfers Massage can be enjoyed by men and women. The treatment starts with brief aromatherapy inhalations, then moves to applying a cooling sports gel containing pure organic aloe vera and essential oils. The sports therapy gel is massaged into the upper and lower back, shoulders and arms and leaves the guest with a pleasant, spa aroma. The kneaded areas are wiped clean with heated towels and hot stones are utilized on key pressure points along the spine and shoulders. The treatment continues to relax muscles as the therapist uses Swedish massage to work out remaining soreness. Guests may also request deep tissue massage.
According to Spa Pechanga manager, Gina Layland, massage treatments that directly target a golfer's needs can sometimes be hard to find, even in golf course-dense Southern California. "In addition to the acclaimed Journey at Pechanga golf course at Pechanga Resort & Casino, there are more than 500 courses in Southern California. We know golfers really need massage for their overall well-being. The response so far has been tremendous," said Layland.
 Spa Pechanga features 10 treatment rooms including a signature couple's suite, a full-service hair and nail salon and a boutique with swimwear, sunglasses, natural mineral makeup and more.