TEMECULA, Calif. (Feb. 1, 2019) – Never mind if you're pulling for the New England Patriots, rooting for the Los Angeles Rams or crazy for the commercials. When it comes to fueling your feeding frenzy for the Big Game, Pechanga Resort Casino has the right recipe to put your Big Game party into the culinary end zone.
Two of the most creative food and drink artisans in Pechanga's deep stable of creative and talented culinary wizards – Chef Jose Mendoza of the Lobby Bar & Grill, and Mixologist Nick Hirsch – recently unveiled some of these tasty treats on KUSI's "Good Morning San Diego."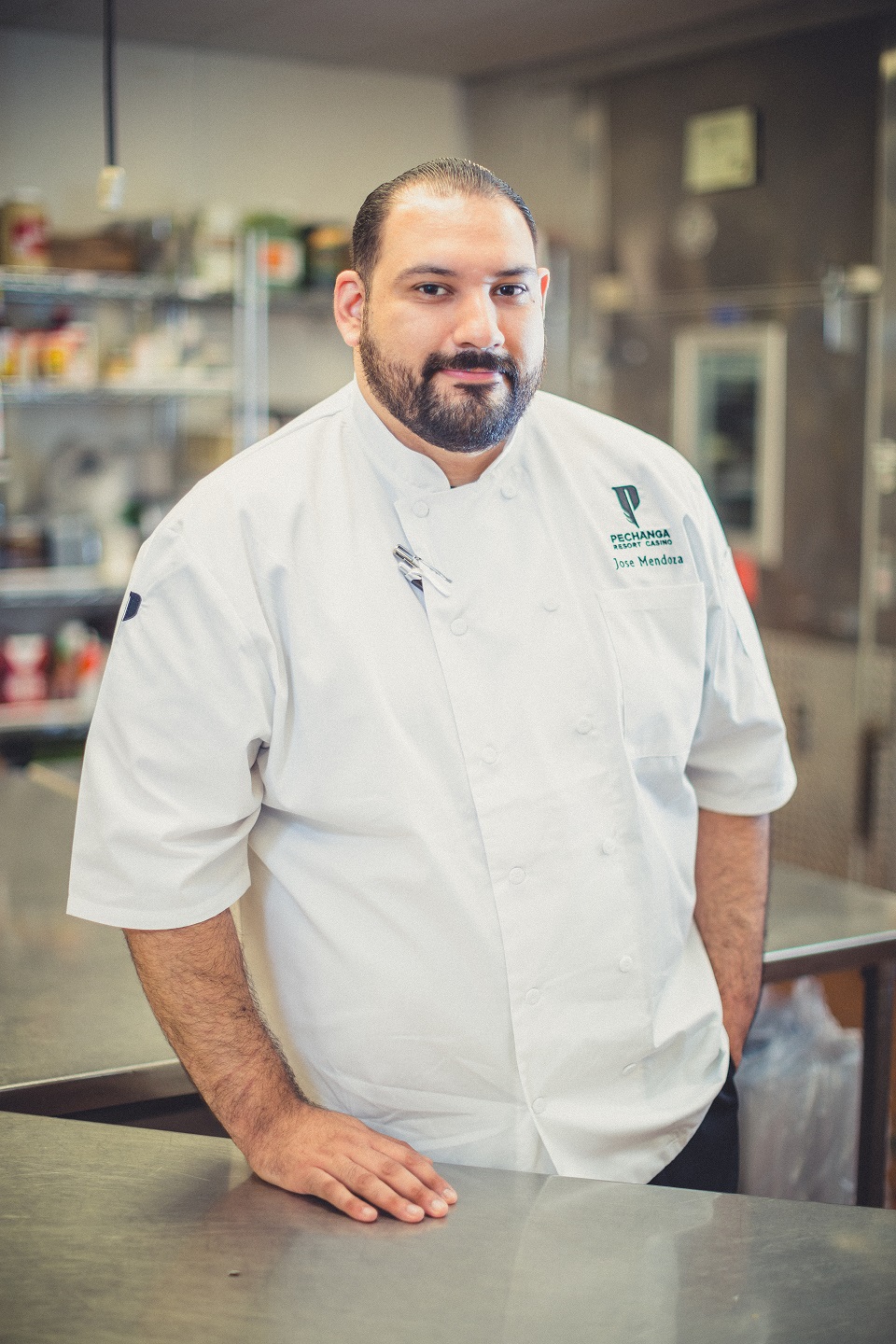 The link for that segment is here.
Best of all, these culinary touchdown celebrations won't require hours of film study or poring over playbooks.
Chef Mendoza, who worked at some of the finest restaurants in Las Vegas before coming to Pechanga, created two fun dishes that are sure to have your guests clamoring for more.
As an homage to the Patriots and their New England roots, the first are Lobster Corn Dogs. Here is Chef Mendoza's recipe:
Ingredients:
Lobster Meat: ½-pound cooked lobster meat, diced; ½-pound raw shrimp, tail removed; ¼-cup chopped fennel; 1 shallot, chopped; 2 garlic cloves, chopped; ¼-cup parsley, chopped; salt and pepper to taste.
Corn Dog Batter: ½-cup flour; ½-cup corn meal; 2 oz honey; 4 oz melted butter; 1 teaspoon salt; 2 teaspoons baking powder; ½-cup milk.
Sweet & Spicy Mustard: ½-cup Dijon mustard; ¼-cup honey; 1 teaspoon Aleppo pepper or chili powder; salt and pepper to taste.
Directions:
Place all ingredients in a food processor except the lobster meat and grind to a fine mousse.
Lay down a piece of plastic wrap and place the lobster meat in tube shape form.
Roll the rest of the plastic around the sausage and roll into a tube about the size of a quarter in diameter. You'll probably need to do this in a few batches.
Poach the sausage in a plastic wrap in simmering water for 10 minutes.
Cool the sausage.
For the batter, mix all the ingredients with a whisk in a bowl until you have a smooth, thick batter. Pour the batter into a large water glass to dip the corn dogs.
For the mustard, mix all the ingredients in a bowl and put aside.
Fill a large stock pot with canola oil and heat to 350 degrees.
Insert wooden skewers into the lobster sausage and dip into the batter. As soon as you take the sausage out of the batter, place it in hot oil – making sure you are holding it by the end of the skewer for 20 seconds. Then, release it into the fryer and cook to a golden brown for five minutes each. Repeat for the rest of the lobster corn dogs.
A Big Game Party isn't complete without munchies, and – once again – Chef Mendoza has that covered as well with an adult twist on that timeless favorite: Chex Mix.
Ingredients for Chef Mendoza's Adult Chex Mix
Bourbon-Glazed Chex: ¼-cup melted butter; ½-cup brown sugar; ¼-cup bourbon; 4 cups Corn Chex.
Spicy Popcorn: 1 bag of your favorite popcorn; Aleppo pepper or chili powder seasoned to taste.
2 cups of dehydrated peaches or any dried fruit of your choice.
Bourbon-Glazed Peanuts: 2 cups or raw peanuts; 1 oz water; ½-cup sugar; 1 oz bourbon.
Honey Mustard Pretzels: Chef Mendoza recommends Snyder's Honey Mustard Pretzels.
Directions:
Place the melted butter, sugar and bourbon in a pot and bring to a simmer, mixing frequently with a metal spoon.
Place the Chex in a heat-resistant bowl.
Slowly pour the hot glaze over the Chex and mix with a spatula.
Place the Chex on a sheet pan lined with parchment paper and bake for 10 minutes at 325 degrees.
For the peanuts, place all the ingredients in a non-stick pan and bring to a simmer on medium heat. Do NOT stir the mix until you start to see a dark, amber color start to form in about 5-10 minutes. Using a spatula, mix and stir the peanuts continuously until a crystalized shell forms on the peanuts and they take on a dark, caramel color.
Place the peanuts on a sheet lined with parchment paper and cool for 10 minutes.
Mix all the ingredients in a bowl and serve.
Of course, munchies need liquid refreshment for accompaniment. Hirsch, who joined Pechanga last August and has already made a splash with guests for his vibrant drink creations, came up with three, easy-to-make drinks that not only go beyond mere beer, but complement any of your food choices.
"Beer and football go hand-in-hand, but there's so much more you can do with it," Hirsch said.
The first is the "Mango Beer-Rita." Hirsch shows you what you can do here:
Take equal parts Orange Juice, Mango Puree and Reposado Tequila. Hirsch recommends Reposado because it doesn't overpower the citrus flavor. Mix them all together ahead of time and refrigerate, preferably overnight.
When ready to serve, rim your glass with Tajin seasoning and fill with ice.
Fill the glass halfway with the tequila mix, then top it off with a mango wheat beer; Hirsch suggests Golden Road Mango Cart or Garage Mango Hefewizen.
Garnish with a Tajin-covered slice of fresh mango.
Hirsch's second creation puts a different spin on ginger beer by creating "Ginger Lager."
Create your ginger syrup at home by chopping ½-cup fresh ginger and let it sit in a quart of simmering hot water for 20 minutes. Strain out the solids, then dissolve two cups of sugar into the ginger water. Prepare this ahead of time.
When ready to serve, fill glass with ice and fill halfway with one part lime juice, two parts ginger syrup and three parts of the lager of your choice.
His final concoction, the "Coco-melon Cooler," is alcohol-free.
Mix one part lime juice, two parts watermelon juice, two parts coconut water, one sliced cucumber and a sprig of mint leaves.
Place in the refrigerator overnight. Serve over ice.
"At home, you're going to look like you know what you're doing," Hirsch joked.